Shocking revelations about the dirty lifestyle of top Nollywood actresses, both the single and married ones, as to how they warm the beds of men to get stuffs is out. This exposé is coming from a lady who is an insider in the movie industry and has seen it all. Her name is Blession Effiom-Egbe and she is a respected producer.
She also revealed that the married women lie to their husbands that they are going to movie location while they are actually going to enjoy themselves with men. Check out the revelations…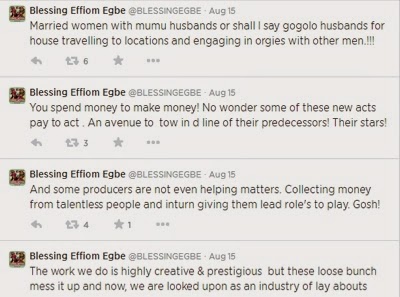 Subscribe to our BBM Channel (C001B7774 or search for '411Vibes') to get live updates.
CLICK HERE to follow us on Google+ so as to get updates on published posts & videos
TOP POSTS YESTERDAY