All you need to know about ISIS and what is happening in Iraq. As ISIS, a group thought to consist of only a few thousand people led by a shadowy figurehead, defeats forces many times its size to capture a large part of Iraq, RT looks into what is ISIS, and how has it achieved its terrifying triumphs.
More..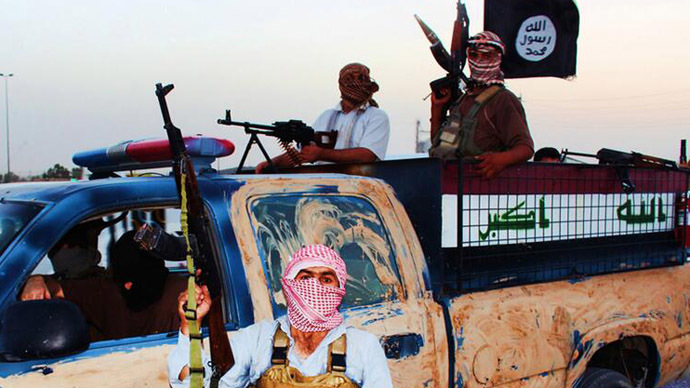 Militants of the Islamic State of Iraq and the Levant (ISIL) riding in a captured vehicle left behind by Iraqi security forces at an unknown location in the Salaheddin province. (AFP Photo)

So, what is ISIS? And is it even ISIS, or is it ISIL?

The world's most committed and fanatical radical organization has only recently gone by its current name, after the unrecognized Islamic State in Iraq and al-Sham (ISIS) was proclaimed in April last year. Al-Sham has been most commonly translated from Arabic as the Levant, hence ISIL. It was previously known as Jama'at al-Tawhid wal-Jihad, Al-Qaeda in the Islamic State of Iraq.




The frequent name changes are not cosmetic – but the direct result of the transforming circumstances which have allowed ISIS to rapidly flourish. Initially focused on achieving dominance in Iraq, it was kept under control in the relatively calm period between the initial sectarian strife that broke out following the US-led invasion in 2003, and the outbreak of hostilities following the American military withdrawal in 2011.

Since then, it has become a major player, receiving another critical boost when the civil war in Syria turned into a sectarian conflict, bringing in millions of dollars in funding and thousands of fresh recruits from around the world.





An image uploaded on June 14, 2014 on the jihadist website Welayat Salahuddin allegedly shows militants of the Islamic State of Iraq and the Levant (ISIL) driving on a street at unknown location in the Salaheddin province. (AFP Photo)

Currently, ISIS strongholds extend from Raqqa in northern Syria all the way down to the outskirts of Baghdad – a stretch of more than 500 km, though the group doesn't have comprehensive oversight of the roads and settlements between them.
-ThingsThatYouMissed
Subscribe to our BBM Channel (C001B7774 or search for "411Vibes") to get live updates.
CLICK HERE to follow us on Google+ so as to get updates on published posts & videos
TOP POSTS YESTERDAY