IocMost beautiful crater lakes in the world – Crater lakes are those that are formed in volcanic craters or caldera. They may also be formed in impact craters caused by meteorites, or even explosions caused by humans.
More..
Though, based on the kind of cavity in which a lake is formed, they may be called caldera lakes, impact lakes,volcanic lakes, etc., the distinction is generally not made with rigidity. Let's take a look at 10 Beautiful Crater Lakes in the World.
10. Kelimutu Crater Lakes – Indonesia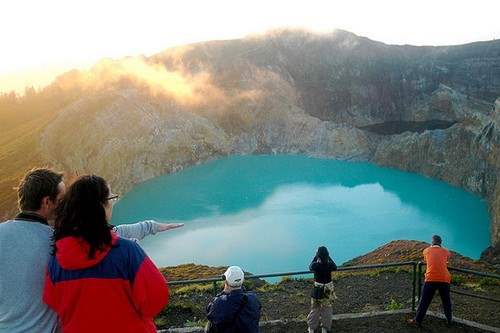 The town of Moni in central Flores island of Indonesia has a volcano named Kelimutu, which contains three stunning summit crater lakes which are counted among the most striking crater lakes in the world. The three lakes have different colours. The Tiwu Ata Mbupu is usually blue in colour. The water of the Tiwu Nuwa Muri Koo Fai is typically green. The Tiwu Ata Polo's water is usually red.
Navigate using <-> arrows below