Fashion trends for women to adopt in 2015 – Fashion in the world of today is not meant for just Hollywood celebrities and runway models. Media has exposed common people to the world of fashion. Television, newspapers, internet, and all other means of communication have exposed people to the ever-changing fashion trends, getting updated in every season.
More..
Women from every walk of emulate the designs by top-notch designers. As we know, fashion changes with every season of every year. We have picked some of the latest and most wearable fashion trends for women. So, let us take a look at the Top 10 Fashion Trends for Women to Adopt in 2015.
1. Shirt-dresses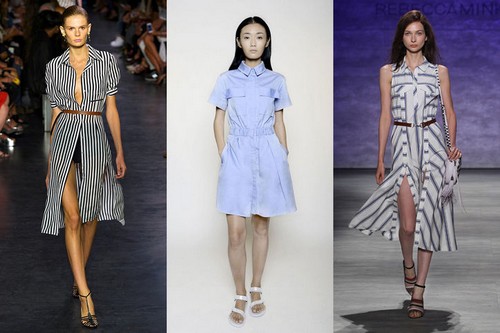 One of the trending styles to pick from the spring/summer collection this year is the shirt-dress. Long shirt, which hit the stands a few years ago, has already become a classic. But, this season, designers have reimagined the shirt-dress with a variety of quirks and cuts. Drop waists, double high slits, button-downs, asymmetric hemlines, mandarin-collar: be ready to embark upon an adventure, and experiment with any look to match your personality as you play with this fashion trends for women.
Navigate using <-> arrows below