10. Saree: with a twist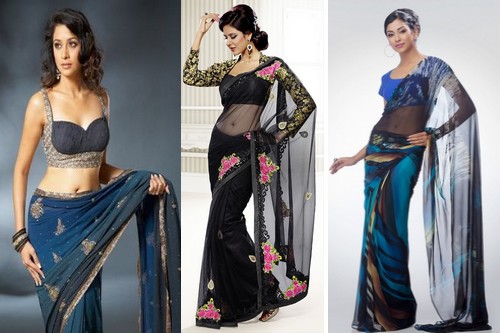 The ethnic Indian wear is not just for the Indians anymore. Wear your saree with a modern twist, and drape it like a gown. Show off those curves in the styles that are rocking the ramp, or bring back the old modern style of Mumtaz. Still not enough? Throw in a blazer, a crop top, a tube, or anything that catches your fancy, in place of the boring old blouse, and add a whole new, quirky dimension to the traditional 9 yards. Add a belt. Make an absolute fusion to own the saree-clad look this year.
Gingham patterns, both large and small, are trending patterns of 2015, and so is the large and flamboyant floral pattern. For the monochrome lovers, there's head-to-toe white, just waiting to enamour, or the military green that goes with look, from slouchy to skinny. Suede is back from the 70s, while denim is making a comeback, too, especially with the 80's favourite full-denim look. Knits and midi-skirts are among the fall trends, and so are the timeless furs and plumes. Throw in an obi belt or fancy aprons for a more runway look at the lounge party. Show off some skin with some mid-riff baring, or play with the imagination with the fringes. Comfy flats are in, and so is bouffant. So, go out there and mix it up. So what if you can't wear Vogue, Chanel or Louis Vuitton? Get inspired, anyway, and indulge in a fashionable 2015. Be beautiful.
–WonderList
CLICK HERE to join our BBM Channel for faster updates
TOP POSTS YESTERDAY