Here is a List of world's Top 10 Smallest Living Animals.
1. Pygmy Marmoset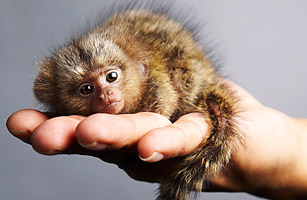 Smallest living animals: The pygmy marmoset is one of the world's smallest monkey breeds. Grown ones weigh only 4 oz. to 5 oz. (110 g to 140 g) and grow to be a mere 6 in. (15 cm) long. They live in the Amazon rain forest, where they do charming things like leap between trees and eat insects and tree sap.
More..
Pygmy marmosets have sharp teeth and claws, but they are relatively docile and a favorite in the exotic-pet trade.