This is a selection of some of the most important or famous historical photographs. Of all the photographs of historical moments taken around the world, there are some that will forever remain etched in our memories. I love history, historical moments, historical place and events.
More..
If you love or don't, you should take a look at these fascinating and rarely seen photos from the past that take a look at days gone by from a different angle.
Here's our collection of 10 rare historical photographs.
1. Niagara Falls During The Freeze of 1911.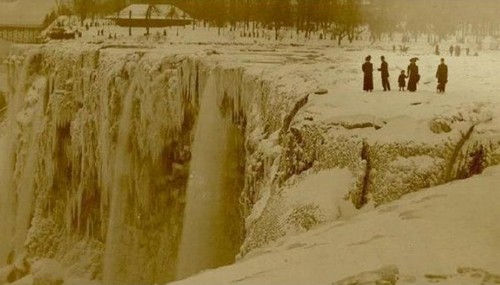 Niagara Falls during the freeze of 1911. Does Niagara Falls ever really freeze over like this?" Yes, during an extended winter cold snap a hardened crust of ice can accumulate over parts of the falls — American Falls in particular — creating an amazing, naturally-formed ice sculpture, thickness of 50 feet. Neither the river nor the falls ever freezes solid. The water continues to flow beneath the ice at all times, albeit reduced to a mere trickle on rare occasions when ice jams block the river above the falls. Historically, when this blanket of ice has spanned the entire Niagara River, the phenomenon has been known as the "ice bridge." You can see in the photo, people used to stroll and frolic on and around the frozen falls and even walk across the ice bridge.