Political leaders who were assassinated: A murder of an individual is called assassination, who is usually a famous celebrity, politician, religious figure or royal. Usually in cases of assassination there is a clear motive – jealousy, political or religious idealism, contract killing, revenge etc. As the world moved into the modern day, the killing of important people began to become more than a tool in power struggles between rulers themselves and was also used for political symbolism, such as in the propaganda of the deed.
More..
 Ever since the Moabite King Eglon was stabbed to death on his throne in 1200 BCE and probably long before that, the political leaders have been killed for any number of reasons. Assassinations may be prompted by religious, ideological, political, or military reasons but the end result is targeted killing of a public figure, whom we know well or we love. Here is a list of 10 notable assassinations of most famous and beloved political leaders and the places where they were assassinated. Lets start the list of Famous Political Leaders who were Assassinated.
10 Famous Political Leaders who were Assassinated.
1.  Benazir Bhutto: Pakistan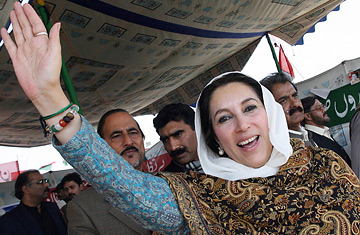 The Chair-Person of Pakistan Peoples Party (PPP), Benazir Bhutto was the most famous Pakistani woman socialist-democratic politician who was the 11th Prime Minister of Pakistan. B. B. was the first woman elected to lead a Muslim state, having twice been Prime Minister of Pakistan in two non-consecutive terms (1988–1990; 1993–1996). She was Pakistan's first and to date only female prime minister and was the eldest child of Prime Minister of Pakistan Zulfikar Ali Bhutto and First Lady of Pakistan Nusrat Bhutto, and was the wife of current President of Pakistan Asif Ali Zardari. As the former Prime Minister of Pakistan, Benazir Bhutto was an icon of the battle for democracy, and stands with only a handful of female executive leaders who have shaped the global events of the last century. On 27 December 2007, Bhutto was killed while leaving a campaign rally for the PPP at Liaquat National Bagh in the city of Rawalpindi, where she addressed a rally of Pakistan Peoples Party supporters for the run-up to the parliamentary elections 2008. Bhutto was leaving the rally at her white Toyota Land Cruiser when the attack occurred. After entering her bulletproof vehicle, Bhutto stood up through its sunroof to wave to the crowds. At this point, a gunman fired shots at her and subsequently explosives were detonated near the vehicle killing approximately 20 people. Bhutto was critically wounded and was rushed to Rawalpindi General Hospital but she was declared dead at 18:16 local time. Also See: Top 10 technologically advanced wrist watches (+Pics)