Attitude era wrestlers who are hall of fame bound – There is no time in wrestling that is more romanticized than The Attitude Era and looking up and down the rosters of the major wrestling companies at the time, there may be a good reason for that. Inducting a select few performers, tag teams and now factions into the WWE Hall of Fame has become a major part of WrestleMania weekend, which many fans look forward to.
More..
We can safely assume that the theoretical hallowed halls of wrestling's best known historical institution will be inundated with people who performed between 1997 and 2002 in years to come.
Whittling down the list of potential inductees to make our list was a difficult task. It pained us to not include Bam Bam Bigelow for instance, a man whose incredible look and agility for a man his size made him stand out. Diamond Dallas Page may have deserved the moniker of the People's Champion and his efforts in helping other retired wrestlers are admirable but he never truly earned a slot at the top of the business or our list. On the other hand, performers like Kane and The Big Show were a lot easier pills to swallow, they deserve the distinction but neither performer has given us much to be excited about in years.
Like the WWE, we considered wrestlers who hold a distinct place in wrestling history that particularly make them deserving of the honor. Tag Teams and Factions were very much up for inclusion taking up a single slot. With our rules stated and a few standout acts that didn't make the cut mentioned let's get down to business.
10. The Hardy Boyz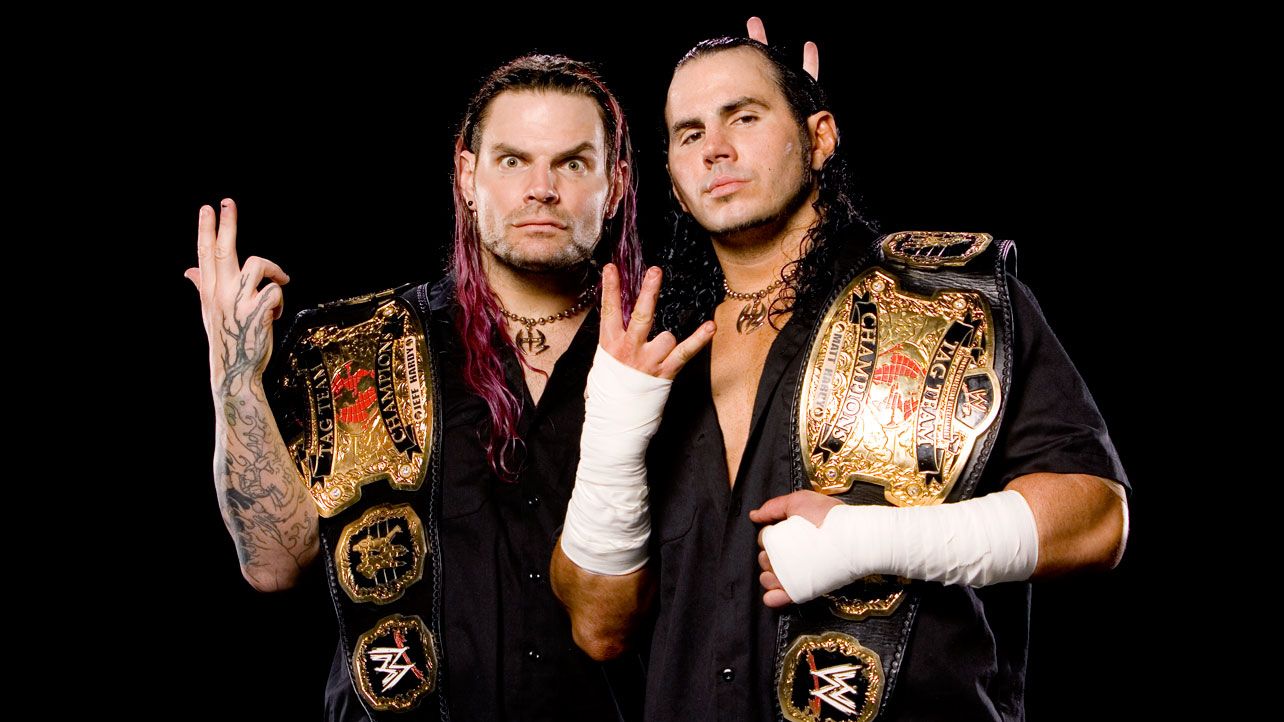 Real life brothers who created a true connection with the fans, The Hardys bring in ratings to this day. Remembered best for their legendary feud with The Dudleys (who barely missed our list) and a couple of Canucks, they were more than willing to sacrifice their bodies for our enjoyment. Two-thirds of Team Extreme with Matt's then girlfriend (and Hall of Famer) Lita, they were dynamos at the merchandise stands for good reason.
If their time together isn't enough for you then surely their singles success should more than satisfy any nay-sayers. Matt's title history includes a tag team run with MVP, the Cruiserweight, Hardcore, European championships and most impressively the WWE version of the ECW strap. Matt's best work by himself in our eyes came due to the creation of his version one character, his entrances alone were highlights of every show he appeared on. Jeff's, even more, impressive resume includes Hardcore, European, Light Heavyweight, WWE Champion and two-time World Champion wins, he was a true main eventer. No hall would be complete without these North Carolina natives.