More pictures WWE doesn't want you to see – Kayfabe storylines are a huge hit with the WWE universe. The WWE loves showing the viewers what goes on behind the scenes. Although this is a great experience, it should be noted that it's all done by the WWE, so ultimately they are choosing the content of what you get to see.
More..
Sometimes pictures or videos emerge that expose the business or a certain superstar, and this sometimes does not sit well with the company. Take Hulk Hogan for example, after his disturbing racial remarks were made public Hulk was immediately fired. There are just some things the WWE simply can't control for the audience to see.
You may remember checking out an article displaying 15 photos that the WWE would prefer their fans not to see, and this article will take a look at 15 more pictures that the WWE doesn't want you to see. The pictures range from Roman Strowman breaking character to the WWE's current golden boy behind bars. Enjoy.
15) John and Nikki Hit The Apple Store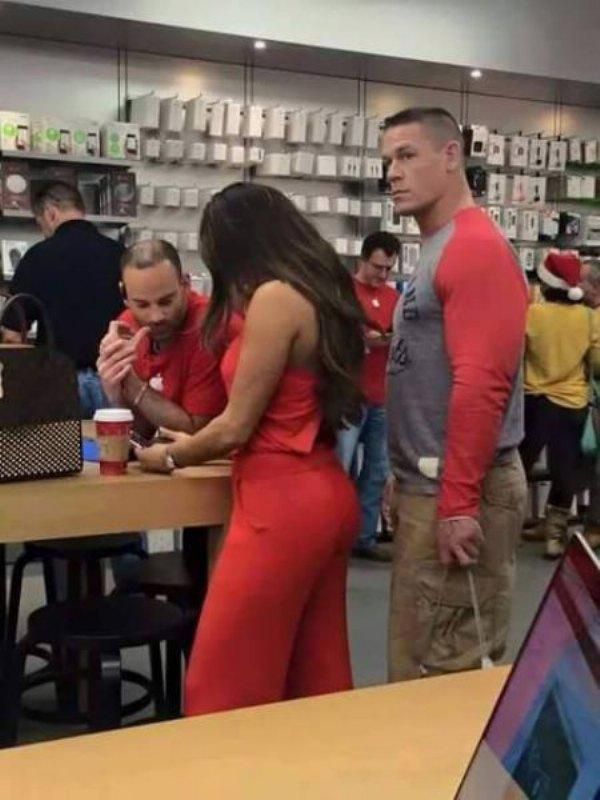 It's very rare that you get to see the face of the business out in public with his girlfriend, WWE Diva Nikki Bella. The two in this picture were spotted together at the Apple Store. You can see an uncomfortable look on John Cena's face in the picture, and surely the two didn't go unnoticed in the store. As the face of the WWE you are constantly in the spotlight under a microscope, so going out in public must not be very easy for Cena.