9 Amazing cars from the Mercedes-Benz museum in Stuttgart, Germany – you've never seen anything like these
Our brief tour around Germany is landed us at the futuristic Mercedes-Benz Museum in Stuttgart. After some quality time in the 2019 VW Arteon and a short stint at the Nurburgring, we had a blast at the Porsche Museum. The latter was wonderful, but rather intimate in size. The Mercedes-Benz Museum couldn't have been more different – it's a massive, towering construct packed to the gills with the best four-wheeled objects to wear the tri-pointed star.
More..
Here are our favorites Mercedes-Benz.
9. 1955 Mercedes-Benz Rennwagen-Schnelltransporter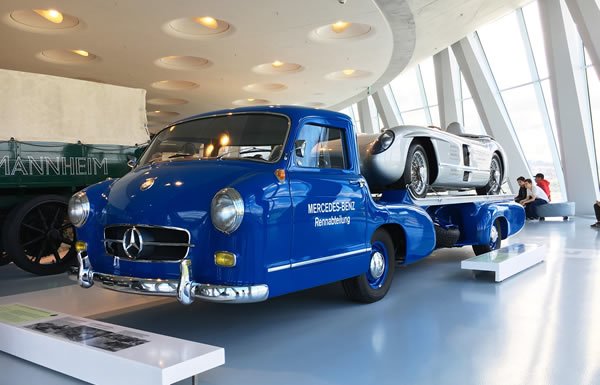 Looking at historical race photos, it's apparent that vintage race transport trucks were almost cooler than the race cars they carried. Ferrari and Scarab used hollowed-out, bus-style trucks, while '60s drag racers were using rigs with inclined ramps to shuttle their Mustangs and Camaros. Meanwhile, Mercedes-Benz did it in style. During the '50s, Merc's racing team designed this fabulously chic 300-based flat-bed transporter for its various race cars. It was powered by a 3.0-liter inline-six that pushed out around 200 hp. This, combined with a relatively slippery profile, allowed the Schnelltransporter to cruise on the Autobahn at 106 mph. The original was lost to history, so this is a perfect replica, with a period-correct SLR in tow.