Celebrities who prove Snapchat is way better than Instagram – Snapchat is a lot more real than Instagram. It's quick and has fun filters. It's less heated and argumentative than Twitter. And it's way cooler than Facebook. All of this according to refinery29.com.For a while Instagram was everybody's go-to picture place. Then came Snapchat, and maybe Instagram should be a little worried (or a lot worried).
More..
The coolest thing for ordinary people is that it is not aggressively public. You can snap pictures and send them to a few people, and, unless the recipient screenshots them, they fade away in a few seconds. That's one reason it's been dubbed a "sexting" App. Or you can sequence public shots over time to tell a story. And then there are all those awesome photo imaging tools. Turn yourself into a puppy or a bunny rabbit, scribble words, and add hearts. It's way more fun than Instagram. Way back in 2015, 60 percent of cellphone users between the ages of 13 and 34 had already downloaded the App. Bloomberg has reported that as of June 2016, Snapchat has more daily users than Twitter (140 million). What? Twitter has fallen? Not quite. But maybe Snapchat seems fresher, younger, and a little more fun. And the people on it tend to be fresher and younger and a lot more fun.
Here are 15 hot young models and stars that prove Snapchat wins over Instagram in the fun and cool stakes. Some of them are already superstars. Others are up and coming. And all of them are cool.
15. Behati Prinsloo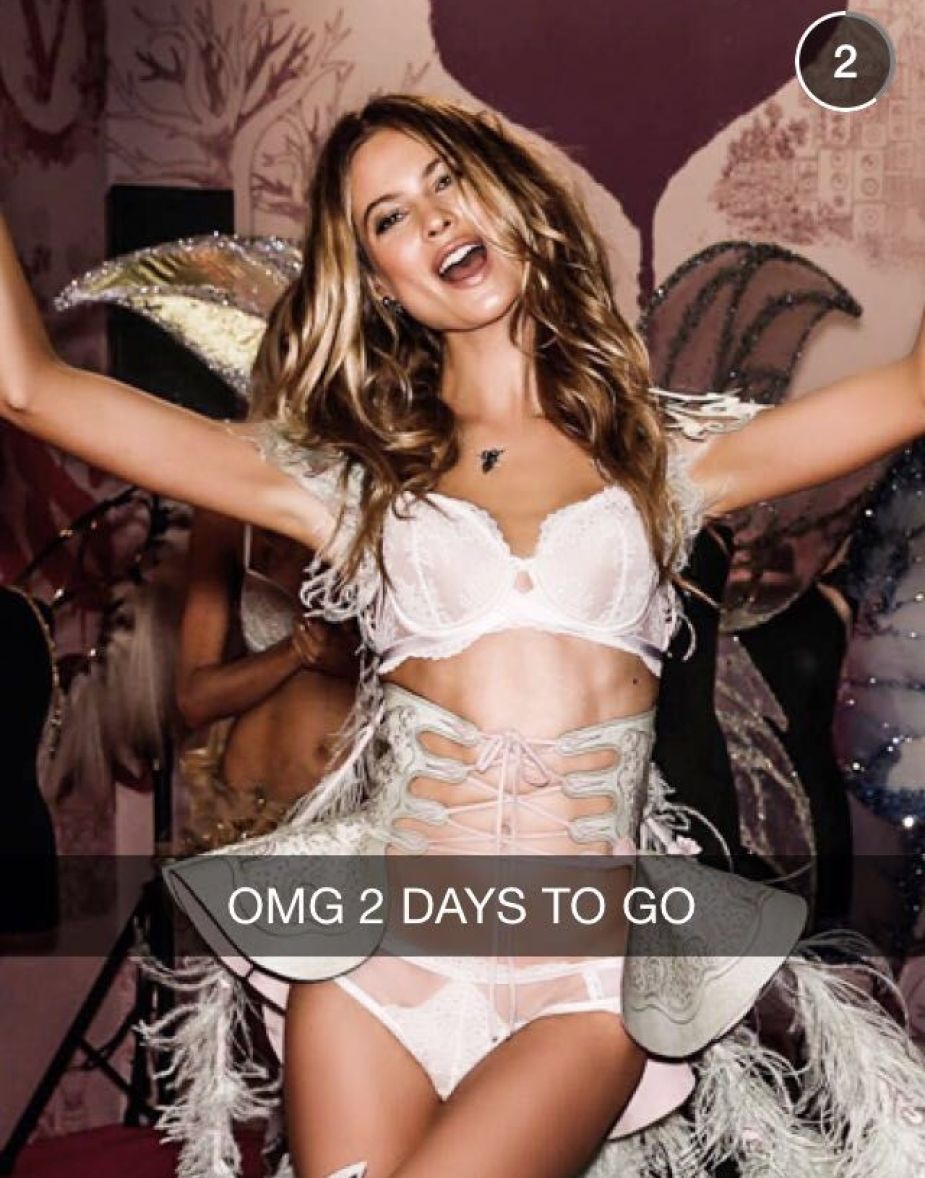 Back in 2015, she was showing up for Milan Fashion Week in sheer tops and turning heads. Now? Currently, she is taking it a little easier and showing off her baby bump while she relaxes in a bubble bath. The 20-something has it all and then some. Married to Maroon 5 frontman Adam Levine, she has been the face of Victoria's Secret sub-brand "Pink" and was promoted to Angel in 2009. She was raised in Namibia and didn't set out to be a model. In fact, Behati Prinsloo was discovered by Storm Modeling Management founder Sarah Doukas, while on holiday in South Africa. She exudes sex appeal and has ranked 8th on the Top Sexiest Models list by models.com. And she has fun on Snapchat, posting altered images of that beautiful face that even her mother wouldn't recognize.