Movie production in Nigeria started over fifty years ago with the likes of Latola Films and Calpeny Nigeria Limited anchoring the escapade. As far back as 1980, most movies produced in Nigeria were either short plays or culled from a book. The major difficulty was inadequate resources. Despite all of that, the Nigerian film industry thrived.
More..
It scurried away from one constraint to another until the birth of Nollywood –the umbrella body covering the movie industry in Nigeria. The name Nollywood was coined to resemble the big shots in the global industry –Hollywood and Bollywood which are the American film and the India film industries respectively.
The Nigerian film industry has over the years spread like wild fire throughout the coast of Africa, Europe, and even Asia. Several Nigerian actors and actresses were shot into limelight and have gained international recognition, fame and fortune by starring in several movies. Nearly every household in Nigeria and the rest of Africa now watch Nollywood movies more than Hollywood and Bollywood films. Some movie stars have become 'semi-gods' due to the huge fan base and the monetary rewards that accompany their roles in movies. Many of these celebrities came from humble backgrounds and have today become role models to millions of youth and fans around the globe. Some even have several millions of naira endorsement deals with multinational companies as the face of their products.
Just like their counterparts in the other subsectors of the entertainment industry, movie stars have huge investments and laudable assets. Many derive pleasure in living a flamboyant lifestyle defined by conspicuous spending. They drive around town in the most expensive automobiles and live in big mansions. Some of them have broadened their scope to become producers, directors, entrepreneurs and big time investors in real estate, fashion, film academy, hospitality, etc.
Nollywood's "James Bond"
Controversial Nollywood actor, James Ikechukwu Esomugha, popularly known as Jim Iyke, who often plays bad boy roles in movies, is indubitably one of the biggest earners in the film industry and an ardent entrepreneur.
The Nollywood "James Bond" has been seen around his Abuja home driving exotic automobiles, including a Plymouth Prowler Convertible and a 2011 Chevrolet Camaro SS Convertible, both estimated at about ₦18 million. Last year, he launched his clothing line called, "Untamed Closet" which features clothing for teens and adults (both male and female). A multimillion-naira mall in Abuja (worth ₦90 million) was reportedly acquired to serve as "Untamed Closet" main store and headquarters.
Caption: Jim Iyke and Models wearing pieces from his 'Untamed Closet' label
Recently also, Jim Iyke signed a mega deal in faraway Gambia. Invest Gambia, an investment company in the Gambia, signed a multimillion dollar deal with the actor for the production of three movies. The new deal will probably be the most expensive Gambian film, as it aims at displaying to the outside world the investment and business opportunities that exist in the Gambia.
The deal was sealed after Jim Iyke was asked by the United Nations in May 2012, to select six less-privileged children who they will train in America. The six children would come from Somalia and the Gambia.
Jim Iyke's Share Scandal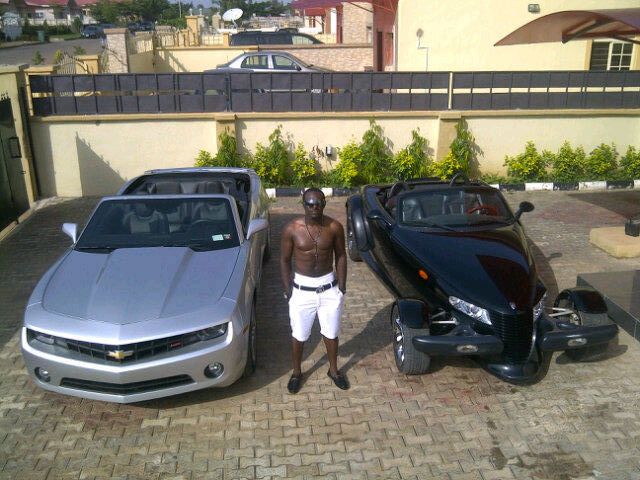 Like his notorious roles in movies, the tough-talking actor was allegedly involved in a ₦15 million share scam which eventually landed him in court. Jim Iyke was accused of defrauding an Abuja-based society lady, Habiba Abubakar, manager of Untamed Records Limited, by surreptitiously transferring 15% of the company's equity shares to his personal account. Consequently, November last year, the police docked the Imo State born actor on a one count charge bothering on breach of trust, criminal force, assault, cheating and misappropriation. After several months in court, the Nollywood star was however discharged after an out-of-court agreement was reached with Mrs. Abubakar.
"Julia Roberts of Africa"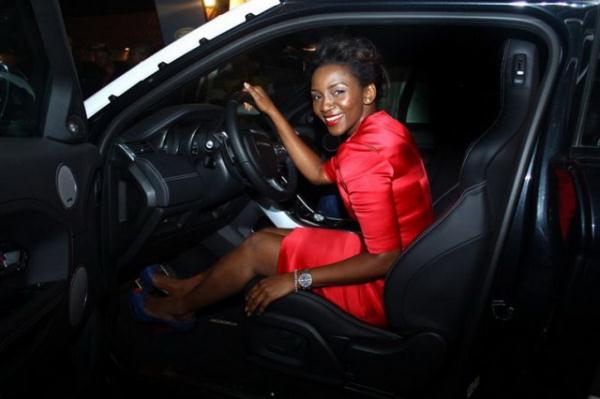 Considered as the highest paid and the most desired actress in Nollywood today, Genevieve Nnaji is undoubtedly the most popular actress in the Nigerian movie industry. Since 1998, at age 19, when she was introduced into the growing Nigerian film industry with the movie "Most Wanted", the 'screen goddess' has starred in well over 100 Nollywood movies till today.
In recognition of her immense contribution to the Nigerian film industry, Genevieve and some of her colleagues were honoured with Members of the Order of the Federal Republic (MFR) national awards by the Nigerian government. The 'queen of Nollywood' has also been presented with numerous awards locally and internationally. She won best actress of the year in the 2001 City People Awards, and in 2005 she won the African Movie Academy Award (AMAA) for Best Actress in a Leading Role. The Cable News Network (CNN) in a documentary referred to her as the "Julia Roberts of Africa".
The diva has featured in several commercials, some of which include Pronto beverage and Omo detergent. In 2004, the award winning actress became the "Face of Lux" in Nigeria in a highly lucrative $100,000 (₦15 million) endorsement deal. Between 2004 and 2006 she earned a whopping sum of ₦35 million from movies and endorsement deals. In 2009 she earned $25,000 (₦3.8 million) in the block buster international hit movie, Ije. In May 2010, Genevieve was appointed as the official "Face of MUD Cosmetics" in Nigeria. A model and also a singer, Genevieve was paid over ₦6 million for her roles in 'Bursting Out', 'Mirror Boy', and 'Tango with Me' movies. She also made some millions of naira for starring in a yet-to-be-released film, Doctor Bello.
St. Genevieve Clothing Line
With numerous fans around the world, in 2008, in a bid to give back to the society, Genevieve launched her clothing line, "St. Genevieve" which donates a percentage of its proceeds to charity. St. Genevieve is presently being managed by fashion icon Zizi Cardow. The clothing line is reportedly worth over ₦30 million. With great interest in real estate and moderate interest in automobiles, sources close to the actress said she owns choice properties in some highbrow areas of Lagos and Imo States.
In September 2009, Genevieve made history by being the first Nigerian actress to be profiled on "The Oprah Winfrey Show" on an episode about 100 most popular people in the world. Genevieve's name has become a household name in different parts of the world.
The Duo Not Limited By Size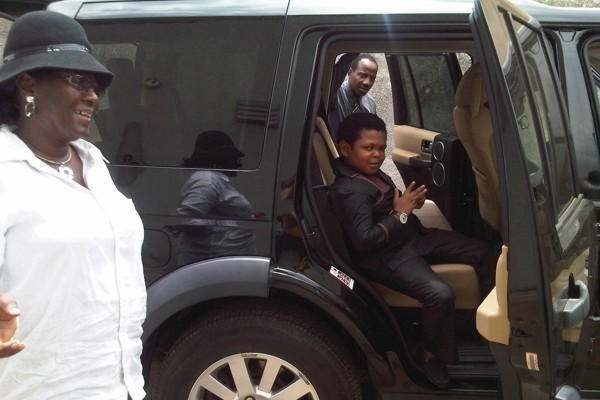 With a number of films to his credit as well as handsome financial rewards, the actor and comedian Chinedu Ikedieze, popularly known as Aki, decided to leave bachelorhood in December 2011. The MFR national honours awardee and his fiancée, Nneoma, got married in a well-celebrated wedding ceremony. The couple later travelled to Dubai for their honeymoon where they spent over $30,000 (₦4.8 million) on the leisure trip. They lodged at the prestigious Four Points by Sheraton in Abu Dhabi, while hanging out at various fun spots.
His usual partner in crime in movies, Osita Iheme, better known as Pawpaw, was his best man. Meanwhile, Osita recently added a Range Rover Jeep to his fleet of cars which include a Honda Sports car and a Toyota Harrier SUV. The diminutive actor, who was also conferred with the MFR national honours award, dedicated the Jeep at a Christian gathering.
Actresses And Properties
Apart from being one of the sexiest screen divas in Nollywood, Ini Edo is a passionate entrepreneur who believes in landed properties and has invested in this area more than any other Nollywood actress. She has six completed buildings to her credit and a yet-to-be-completed one which she bought recently. Most of the buildings are being rented to tenants. The actress, model and producer presently has nine landed properties to her credit. Sources close to her said five of her landed properties are in the Ikotun and Ikorodu areas of Lagos State while the rest are in the eastern part of the country. Ini Edo is also a Glo Ambassador with a ₦20 million deal. Her investment is estimated to be worth ₦80 million.
Kate Henshaw-Nuttall is a humble and hardworking actress who earns millions of naira for major roles in movie. The AMAA 2008 best actress winner is a complete entrepreneur. Although she does not drive very expensive cars, the Cross River born star has her own company. Her interest in real estate cannot be denied. She currently has three buildings and several landed properties scattered all over the country. The warm and beautiful star is also a model. Kate is presently a Glo Ambassador and the face of Onga, a brand from Promasidor. She has earned over ₦70 million between 2008 and 2011 for her roles in movies, endorsement deals, and personal business. Plans are also underway for the production of her movies.
Controversial Nollywood Actress
Controversial Nollywood actress, Mercy Johnson is also a lover of landed properties. In the past three years she appeared in more movies than any other Nollywood actress, earning over ₦30 million. Reports have it that she just completed one of her two housing properties. She also owns about six landed properties in Lagos and in her hometown.
Bold and beautiful Omotola Jalade Ekeinde is the darling of Nollywood. Many believe she shares the same status with Genevieve Nnaji and together they are the two biggest actresses in Nollywood. Omotola is not an everyday business woman, but a core investor in whatever she develops passion for. Omotola has great love for cars. She drives more expensive cars than any actress in Nollywood and her garage is estimated to be worth ₦20 million. The mother, model and musician has also stepped up her game in the music industry. The production and promotion of her last album cost her about ₦13 million.
Subscribe to our BBM Channel (C001B7774 or search for "411Vibes") to get live updates.
CLICK HERE to follow us on Google+ so as to get updates on published posts & videos
TOP POSTS YESTERDAY