Greatest African footballers of all time – It's time to celebrate the players who have brought the African continent some prestige and eminence!Their skill and approach to the beautiful game is incredible, their dominance and ascendancy on and off the pitch is so bewitching to accomplish that often you end up screaming, "How on earth did he do that?"
More..
Here are the top 10 Greatest African Players Ever:
8. Samuel Osei-Kuffuor (Ghana)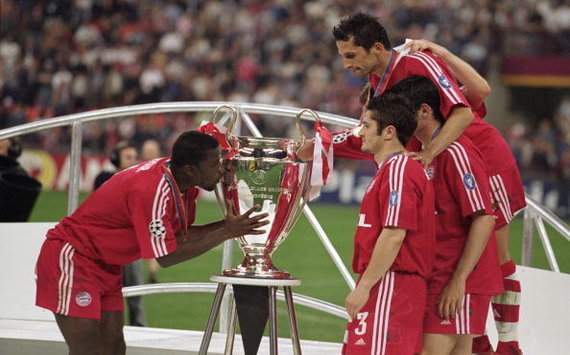 Samuel Osei-Kuffour defended with his heart and pride!
Whichever yardstick you use in measuring the greatness of Osei-Kuffour, you'd always arrive at the same one-word conclusion – legend. Heart and passion. No other defender in Africa had those qualities in him in the amounts that the former Munich demigod had.
Every tackle he dived into, every header he elevated towards, he got into with full force, and usually won it, first to get up when the dust cleared. He's was not immuned to a sporadic blunder or mistake but he made up for them with his non-stop effort during the whole 90 minutes, and despite all the flashy names Africa churned out, Osei Kuffour was and is the heart & soul in defending.
Kuffour was always reliable to clear the ball in his area and also full of bravery, leadership and concentration on his game. It has rarely been a mistake of his. The Ghanaian was admired for his reading of the game and ability to anticipate opposition movement and had uncanny intuitive sense for where the ball was headed.
Navigate using <-> arrows below