1. The United States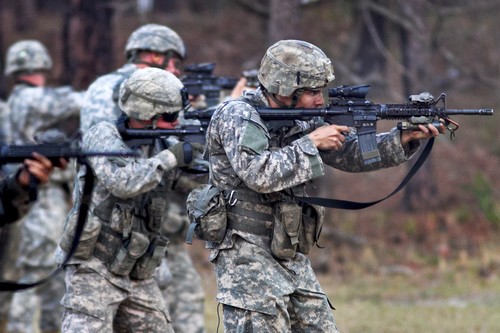 The United States spends a whopping $612.5 billion on the military, more than the other nine countries' budgets combined. It maintains a remarkably large army composed of over 1.4 million soldiers, and a further 800,000 reservists. To complement the active ground force comprising well-trained men and women in uniforms, its biggest advantage is that it is the world leader in aircraft production, with a fleet of 19 aircraft carriers, while the carriers operated by the world together sum up to 12. The US implements cutting-edge technology like the Navy's new rail gun, and the country also has 7,500 nuclear warheads at its disposal. No wonder it is no.1 military force since WW-II.
Thus, the defence budget, man power, air force, navy, etc. together help to determine the most powerful military forces in the world. The countries with strongest armies are the nations that are considered the biggest threats to global security, and these are the nations that also become the heavyweights in global affairs. While the US has projected a formidable military force for a long time, Russia has risen well, and China, too a force to reckon with. These countries clinch the top 3 positions, and the strategies of other countries may gradually make them recognizable forces in the world in a not-so-distant future.
–WondersList
CLICK HERE to join our BBM Channel for faster updates
TOP POSTS YESTERDAY