Former Minister of the Federal Capital Territory and now All Progressive Congress, APC, stalwart, Mallam Nasir el Rufai, is one man who does not bat an eye lid whenever he has anything to say.
He is now one of the most vociferous critique of the President Goodluck Jonathan administration and does not see anything good in the regime and in the ruling party, Peoples' Democratic Party, PDP.
More..
Apart from criticizing the government, he has, at various times, shown that he does not see anything good in any other religion apart from his own religion, Islam.
Even in the face of the incessant attack by the Islamic terrorist sect, Boko Haram, Mallam Nasir el-Rufai still does not believe the insurgents are doing anything wrong, he still thinks that others are the ones responsible for the rise and rise of the sect.
This much he made known in one of his twitter posts where he tweeted that Christians and politicians are the real brains behind Boko Haram.
In the tweet which he titled:
Those interested in understanding the metamorphosis and variants of Boko Haram will find this compilation helpful;
Mallam el-Rufai took time to itemize the various metamorphosis of the emergence and sustenance of the insurgents, giving a larger portion of the blame to Christians, men of God and politicians.
Read his tweet here and make up your mind.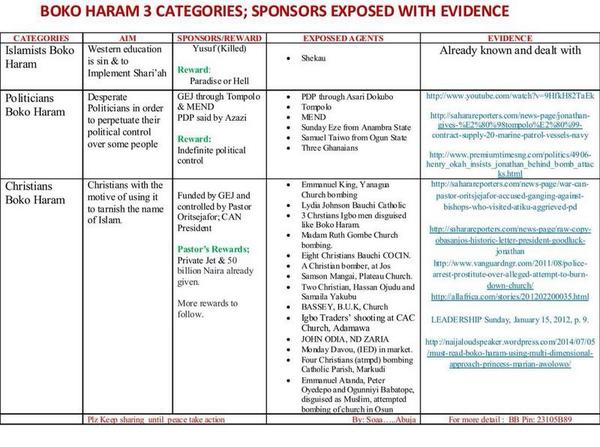 Those interested in understanding the metamorphosis and variants of Boko Haram will find this compilation helpful. pic.twitter.com/VfYJnhZgbL

— Nasir El-Rufai (@elrufai) September 8, 2014
-TalkofNaija