General Muhammed Buhari is currently suffering some public relations disaster over his Friday trip to the United Kingdom.
See FULL STORY after the cut…
More..
No sooner had the All Progressives Congress (APC) presidential candidate left the country, supposedly on a political trip in which his campaign team claimed he would be giving a speech at the Chatham House, that the story emerged that the retired general was actually on a medical trip to the United Kingdom.
Mukhtar Alex Dan'Iyan, political strategist has been on this story exposing the details of Buhari's UK trip including the name and address of the hospital where Buhari checked in as he arrived London on February 20, 2015. He suggests that the photo taken with Tony Blair was paid for and Blair's reputation is destroyed.
Buhari was allegedly taken from the London Hospital to where he had the photo opportunity with former British Prime Minister, Tony Blair whom Dan'Iyan reports has an inconsequential political influence in the UK.
Dan'Iyan also went on to release a 22-tweet series on micro-blogging site, Twitter, on the Buhari medical trip saga. See them after the story.
The APC had released a photo of Buhari in a London Airport which Dan'Iyan quickly exposed as a 2013 photo and not 2015 photo.
All eyes remain on Buhari as he makes his fourth attempt at becoming president of Nigeria. A former military dictator, Buhari ran unsuccessfully for president in 2003 against General Olusegun Obasanjo, he ran again against late President Musa Yar'Adua and lost, and lost yet again against the incumbent, Dr. Goodluck Jonathan in 2011 who he would be facing again at the polls on March 28, 2015.
1/22 Folks, Campaign Overlord, David Axelrod has rallied the troops, and APC is on a propaganda offensive #NigeriaDecides #BuharisHealth

— Mr. Aye Dee (@MrAyeDee) February 21, 2015
2/22 this morning. #NigeriaDecides #BuharisHealth

— Mr. Aye Dee (@MrAyeDee) February 21, 2015
3/22 They are trying to bamboozle the public by pretending yesterday never happened in Buhari's life. #NigeriaDecides #BuharisHealth

— Mr. Aye Dee (@MrAyeDee) February 21, 2015
4/22 The fact remains that from all indications, Buhari is on a medical visit to the UK (and then USA). #NigeriaDecides #BuharisHealth

— Mr. Aye Dee (@MrAyeDee) February 21, 2015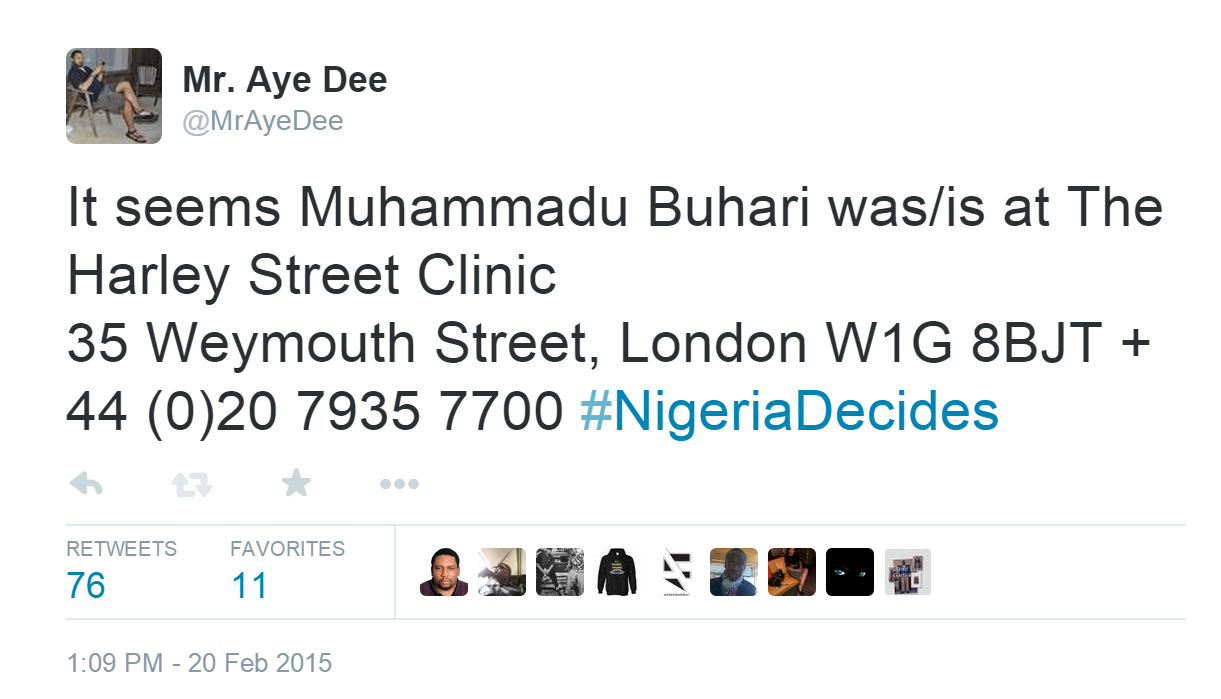 5/22 After he arrived in the UK, he allegedly went straight to the hospital , where he #NigeriaDecides #BuharisHealth pic.twitter.com/sqfPirjY0g

— Mr. Aye Dee (@MrAyeDee) February 21, 2015
6/22 spent the day and was also kept overnight. #NigeriaDecides #BuharisHealth

— Mr. Aye Dee (@MrAyeDee) February 21, 2015
7/22 To explain his disappearance, APC initially claimed he had gone to Paris, France. #NigeriaDecides #BuharisHealth pic.twitter.com/L7tS67GvFa

— Mr. Aye Dee (@MrAyeDee) February 21, 2015
8/22 Like was done to the USSR's Konstantin Chernenko in 1985 http://t.co/SdykixYWxU #NigeriaDecides #BuharisHealth pic.twitter.com/DTsyuEl4K2

— Mr. Aye Dee (@MrAyeDee) February 21, 2015
9/22 Buhari was this morning dragged from his hospital bed to meet with Tony Blair #NigeriaDecides #BuharisHealth pic.twitter.com/AQ3Nq3nCNd

— Mr. Aye Dee (@MrAyeDee) February 21, 2015
10/22 Having ruined his reputation and achieved total political obscurity in the UK, Tony Blair has become a #NigeriaDecides #BuharisHealth

— Mr. Aye Dee (@MrAyeDee) February 21, 2015
11/22 'face for hire' available to legitimize any and all despicable political operatives from anywhere in #NigeriaDecides #BuharisHealth

— Mr. Aye Dee (@MrAyeDee) February 21, 2015
12/22 the world for a price (http://t.co/ytxkI0pt6b), one which APC certainly paid. #NigeriaDecides #BuharisHealth pic.twitter.com/PrUBKvJzpw

— Mr. Aye Dee (@MrAyeDee) February 21, 2015
13/22 But back to Buhari, safe to say, main objective for this hastily arranged meeting this morning was a #NigeriaDecides #BuharisHealth

— Mr. Aye Dee (@MrAyeDee) February 21, 2015
14/22 photo op to show he was not in the hospital but out and about. #NigeriaDecides #BuharisHealth

— Mr. Aye Dee (@MrAyeDee) February 21, 2015
15/22 But this photo op falls short, as most discerning Nigerians realize that despite all of APC's #NigeriaDecides #BuharisHealth

— Mr. Aye Dee (@MrAyeDee) February 21, 2015
16/22 propaganda efforts a few photos from Tony Blair's office do not indicate anything concrete. #NigeriaDecides #BuharisHealth

— Mr. Aye Dee (@MrAyeDee) February 21, 2015
17/22 We are yet to see videos of Buhari walking unassisted or talking (coherently) at length about any #NigeriaDecides #BuharisHealth

— Mr. Aye Dee (@MrAyeDee) February 21, 2015
18/22 issue, for that is what shall allay our fears about Buhari's medical well being. #NigeriaDecides #BuharisHealth

— Mr. Aye Dee (@MrAyeDee) February 21, 2015
19/22 Important to note that all well meaning Nigerians, including myself, wish Buhari a speedy recovery from #NigeriaDecides #BuharisHealth

— Mr. Aye Dee (@MrAyeDee) February 21, 2015
20/22 whatever ails him, but since he's running for President, it's only right we know the true state of his #NigeriaDecides #BuharisHealth

— Mr. Aye Dee (@MrAyeDee) February 21, 2015
21/22 health. #NigeriaDecides #BuharisHealth

— Mr. Aye Dee (@MrAyeDee) February 21, 2015
22/22 Thank you for reading, God Bless You and God Bless Nigeria. #NigeriaDecides #BuharisHealth

— Mr. Aye Dee (@MrAyeDee) February 21, 2015
Source- MrAyeDee
CLICK HERE to follow us on Google+ to get updates on published posts & videos
TOP POSTS YESTERDAY