10 Most attractive airlines stewardess – The profession of a flight attendant is challenging and demanding, but at the same time it's glamorous one too. No doubt, flight attendants are the face of the airline they represent.
More..
In the current ruinous competition, airlines are giving particular thought to the selection and appearance of their flight attendants. From their height, figures and smile to their uniform, flight attendants are the most important aspect of the advertisement of any airline. Here is a list of top ten most attractive airlines stewardess. No matter where you are flying, the flight attendants always look hot, cute and elegant.
Enjoy reading and photos! What are your views? As always, share your comments on the photos here. Also, write for your favorite airline air hostess, that you think should be in the list.
10. Virgin Atlantic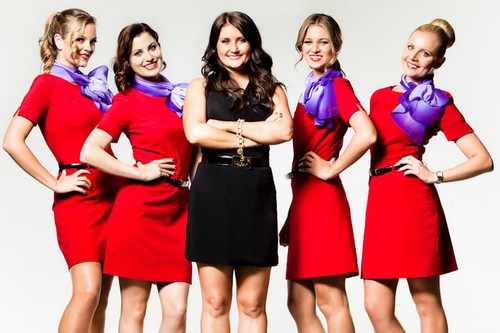 With fitted red suits and stylish silk neck ties, the Virgin Atlantic stewardess always stood out from the crowd. These beautiful flight attendants seems like HBO tv stars in their seductive red uniform. They have been voted the "most attractive airline stewardess" in a survey conducted in 2011. Virgin Atlantic's "Red Hotties" are among the hottest in the sky. Elegant glamour and cheerful attitude are just some of the phrases used to describe Virgin's supposedly amazing stewardesses.
Navigate using <-> arrows below