15 female celebrities who love going nude – Some celebs dress nearly nude, be it their see-through dresses or teeny tiny ensembles that barely cover 'em up! Dressing nearly nude can mean two different things.
More..
It can mean wearing an ensemble encrusted with priceless and hand-sewn jewels and gems that offers the illusion of nakedness, thanks to a sheer underlay … or it means dressing with so little fabric that one appears nude and with her assets on full display.
Whatever the case, both styles of supremely sultry dressing are suggestive and sexy, and they are an embedded part of the celeb style and red carpet playbook. Rihanna once wore a sheer dress that made her seem naked — seriously, it was like a "naked dress." Kim Kardashian barely and rarely covers up. Britney Spears and Mariah Carey often do the nude bodysuit thing, since they are performers and this look is an integral part of their stage costumes and attire.
Nude fashion — it's fairly common.
While conservatives and prudes may ask, "Why wear any clothes at all?" when celebs get super sexy and nude — like with their ensembles, we won't go that far. Ease up! The fashion intelligentsia and fans find this trend to be appealing, enticing, and hotter than freshly-flowing lava.
So feast your eyes on celebs who dress nearly nude via either of the aforementioned options.
15. Kristen Stewart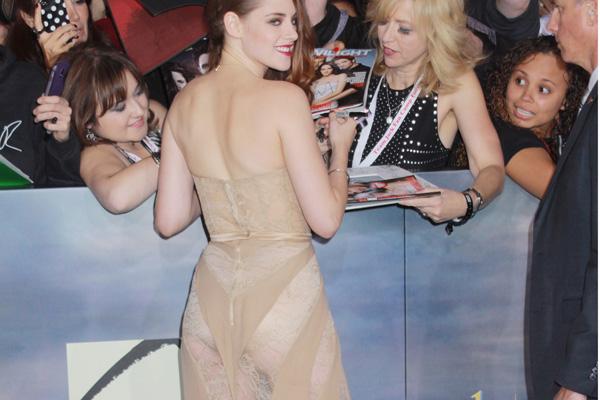 Navigate using <-> arrows below